"EXPERTISE IS OUR STRENGTH"
We work on a project and innovation base. We put together the best experts from universities, research organisations and the public and private spheres.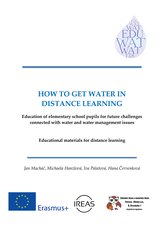 Distance learning requires different methods and content. Gradually, we modified the existing activities developed by IREAS in the Wet.Edu project and proceeded to create new ones that could be applied in distance learning. The aim was, ideally, to replace or supplement frontal teaching in distance learning and at the same time motivate students to self-education. This material aims to expand students' competences in a broader sense than just being able to switch on online learning, e.g., via MS Teams. The result of our efforts is this educational material, which contains a set of activities developed by us and tested together with schools, suitable for use not only in distance learning. Each activity contains a brief description and a more detailed description of how to implement it in distance learning.